PROPEL BIOLOGICS™ JetCAP™
Revolutionary Oral Capsule Device for Precision Delivery of Biologics
Needle-free fluid transport to gut wall

10 - 30 mg per dose

Systemic delivery comparable to SC

Targeted region-specific GI delivery

Standard pharmaceutical components

Enteric coated - GRAS excipients

Low cost of goods

Liquid-fill manufacturing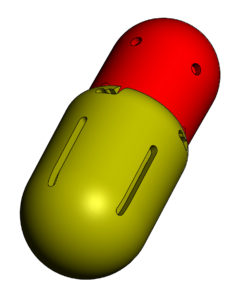 *Device size is comparable to 000 Capsule Size
ACTUATION: At a defined pH in the GI tract, enteric coated tablet and nozzle plugs dissolve, preparing the device for delivery of drug.
DEPLOYMENT: Dissolution of the tablet releases the spring, which pushes the plunger, delivering drug from the liquid-filled reservoir to the gut wall.
ELIMINATION: The fluid stream is delivered
at the defined depths to the gut wall. The expended capsule passes harmlessly in unopened state.

High drug delivery capacity
Common pharmaceutical components
10 to 30 mg per day delivery

Potential for les frequent administration

Ultra-long acting oral product
Injection molded parts

Plunger and nozzle

Tablet actuation mechanism
Solution or suspension formulation

Rapidly adaptable from injectable product

Long-acting particulate suspensions
| | JetCAP™ | RaniPill™ | MIT SOMA |
| --- | --- | --- | --- |
| High Dose 10-30 mgs | ✓ | | |
| Needle-Free | ✓ | | |
| Extended-release Formulation | ✓ | | |
| Standard Pharma Components | ✓ | | |
| Liquid Fill Manufacture | ✓ | | |
| Targeted GI Delivery | ✓ | ✓ | |
| High Bioavailability | ✓ | ✓ | ✓ |
| Oral Delivery of Biologics | ✓ | ✓ | ✓ |
Stainless prototype for initial testing of forces
Cyclic olefin polymer for use in humans / preclinical studies
COP well known to be compatible to biologics fluids
Capsule is 000 in size and is excreted
| | Dose Range | Delivery Method | Formulation | Status |
| --- | --- | --- | --- | --- |
| Baywind Bio JetCAP™ | 10-30 mgs (0.3 ml) | Needle free liquid transport to gut wall | Solution or suspension | Preclinical dog study preparations |
| Progenity Intellicap™ | 10-30 mgs (0.3 ml) | Controlled liquid delivery/sampling | Solution or suspension | Human study not disclosed |
| MIT: SOMA | 1-5 mgs | Microneedle spike injection | Compressed sugar millipost | Preclinical insulin minipig PK data |
| Rani: RaniPill™ | 1-3 mgs | Microneedle patch injection | Sugar based microneedle | Phase 1 Safety/PK Octreotide BA 70% |